Glenside Instrument Repair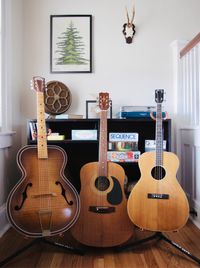 Glenside Instrument Repair specializes in setups and repairs for all stringed instruments, big and small! Anything from cleanings and restringings to more serious repairs such crack stabilization and neck resets... we've got you covered.  We particularly like bringing old, long forgotten instruments back to life.  Got an instrument you'd like us to check out?  Click HERE to send a message, and we will get right back to you. 
We provide services including, but not limited to:
cleaning 
restringing 
setups
crack repairs
neck resets
pickup installation
electronics repair
Current wait times as of September 8, 2023:  standard instrument setups - about one week. Timing for other repairs dependent on the nature of the repair.
Hours: By appointment only. Generally Monday through Saturday, 10:00am - 6:00pm
Phone: 267-608-5085